for Clinicians


We Work for Clinicians
Physical Therapy rehabilitation professionals requiring timely, knowledgeable support when ordering equipment and supplies, Advanced is the one firm that provides the planning and flexibility for an easy, worry-free process. We are different because other suppliers only take orders and deliver but that is only a fraction of the service Advanced Rehabilitation Systems provides. With an average tenure of over 20 years, our responsive team is accountable for sales guidance, delivery, install, training and maintenance.  
Each clinician has a unique method and their workspace is part of that uniqueness. Advanced provides the knowledge and industry expertise to understand your specific needs to best treat your client by using space and the right equipment to maximize your time, energy and skill. Advanced will consult with you to learn about your clinic wants and needs and work with you to develop a plan for success.  
Once a well thought out plan is in place, Advanced will manage the ordering of the specific equipment and supplies for your clinic's needs. They deliver the equipment to your facility with urgency knowing these are your essential tools of your trade. Other providers stop there. Advanced positions and assembles the equipment, tests it and also trains clinicians how to use the equipment and get the most out of their purchase. The assembly is done by Advanced employees and not sourced out. This is our profession and expertise delivered to you. We understand that this is not just a workout machine it is a medical device and instrument of your practice. The same is true for the training, we know the physical therapy business and provide education to enable you to efficiently use the equipment to reach your patient rehabilitation recovery.  
Advanced supports you beyond the initial set-up and training. We are available as your business partner to answer questions when you have them. You can call and talk to a live person and get expert advice and direction. Our goal is to keep you moving. To do so we are on call to maintain your equipment and keep it functioning at full capacity. We have provided temporary equipment to replace broken equipment while we make a repair or replace.   
Contact Us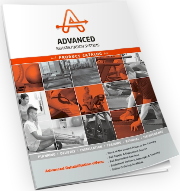 download our catalog
Take a look at our interactive online catalog, view a PDF version, or contact us to receive a printed copy by mail.